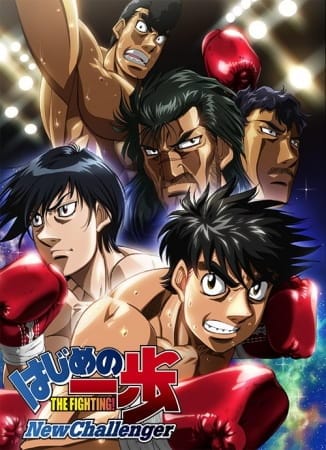 Aired: Jan 7, 2009 to Jul 1, 2009
Duration: 23 min. per ep.
Viewed: 6
Synonyms: Fighting Spirit: New Challenger, Hajime no Ippo New Series, Hajime no Ippo Season II, Hajime no Ippo 2, はじめの一歩 新シリーズ
Japanese Featherweight Champion Ippo Makunouchi has successfully defended and retained his title. Meanwhile, his rival, Ichirou Miyata, has resurfaced in Japan, aiming for his own Featherweight belt in the Oriental Pacific Boxing Federation. When the rest of the world comes knocking, however, will Japan's best fighters rise to the challenge and achieve glory at the top? Or will the small island nation be crushed under the weight of greater entities? This time, champions will become challengers issuing a call to the rest of the world and ready to show off their fighting spirit! [Written by MAL Rewrite]
Aoki, Masaru

Main

Itagaki, Manabu

Main

Kamogawa, Genji

Main

Kimura, Tatsuya

Main

Makunouchi, Ippo

Main

Takamura, Mamoru

Main

Sakaguchi, Mr.

Supporting

Sendo, Takeshi

Supporting

Shinoda, Tomoyuki

Supporting

Stewart, Bill

Supporting

Takamura, Wataru

Supporting

Takamura, Kyouka

Supporting

Takamura, Suguru

Supporting

Tomiko

Supporting

Umezawa, Masahiko

Supporting

West, Morris

Supporting

Yagi, Haruhiko

Supporting

Yamada, Mother

Supporting

Yamada, Naomichi

Supporting

Yonsu, Yi

Supporting
Comming soon!!! But still, you're very handsome.
Please comment for requesting this anime.