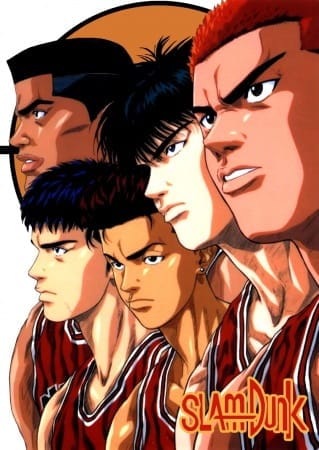 Aired: Oct 16, 1993 to Mar 23, 1996
Duration: 23 min. per ep.
Viewed: 2592
Synonyms: Slam Dunk
Hanamichi Sakuragi, infamous for this temper, massive height, and fire-red hair, enrolls in Shohoku High, hoping to finally get a girlfriend and break his record of being rejected 50 consecutive times in middle school. His notoriety precedes him, however, leading to him being avoided by most students. Soon, after certain events, Hanamichi is left with two unwavering thoughts: "I hate basketball," and "I desperately need a girlfriend." One day, a girl named Haruko Akagi approaches him without any knowledge of his troublemaking and asks him if he likes basketball. Hanamichi immediately falls head over heels in love with her, blurting out a fervent affirmative. She then leads him to the gymnasium, where she asks him if he can do a slam dunk. In an attempt to impress Haruko, he makes the leap, but overshoots, instead slamming his head straight into the blackboard. When Haruko informs the basketball team's captain of Hanamichi's near-inhuman physical capabilities, he slowly finds himself drawn into the camaraderie and competition of the sport he had previously held resentment for. [Written by MAL Rewrite]
Mitsui, Hisashi

Main

Miyagi, Ryota

Main

Rukawa, Kaede

Main

Sakuragi, Hanamichi

Main

Akagi, Takenori

Main

Yuuki, Isamu

Supporting

Ookawa, Teruo

Supporting

Miyamasu, Yoshinori

Supporting

Mito, Youhei

Supporting

Miura, Yoshihide

Supporting

Minami, Tsuyoshi

Supporting

Nagano, Mitsuru

Supporting

Naitou, Tetsuya

Supporting

Nakamura

Supporting

Nangou, Kouichirou

Supporting

Narrator

Supporting

Nobe, Masahiro

Supporting

Noma, Chuichirou

Supporting

Oda, Tatsumasa

Supporting

Mikoshiba

Supporting
Because we are making use of some free resources to reduce the main server load, the player can be opened on another domain or showed as a new tab (you have to allow pop-up if you're not using Chrome).