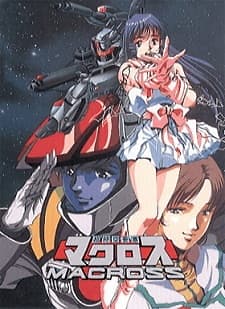 Aired: Oct 3, 1982 to Jun 26, 1983
Duration: 25 min. per ep.
Viewed: 18
Synonyms: Macross
After a mysterious spaceship crashes into Earth, humanity realizes that they are not alone. Fearing a potential threat from space, the world pushes aside their nationalism, conflicting interests, and cultural differences, unifying under the banner of the United Nations. The newly formed UN forces decide to repurpose the alien spacecraft, naming it SDF-1 Macross. Unfortunately, on the day of its maiden voyage, a fleet of spaceships belonging to a race of aliens known as the Zentradi descend upon Earth, and the SDF-1 Macross, acting of its own accord, shoots down the incoming squadron, sparking an intergalactic war. In an attempt to escape, the Macross tries to launch itself into the Moon's orbit, but the ship—as well as the city it was in—is teleported to the far reaches of space. Caught up in this mess are Hikaru Ichijou, a free-spirited acrobatic pilot, and Minmay Lynn, an aspiring singer. These two, alongside Macross' crew, experience an epic journey rife with grief and drama, coming face-to-face with the cruelties of war along the way. [Written by MAL Rewrite]
Ichijou, Hikaru

Main

Lynn, Minmay

Main

Hayase, Misa

Main

Nantes, Warera

Supporting

Lynn, Feichun

Supporting

Oigul

Supporting

Politician

Supporting

Trakajiide, Karita

Supporting

von Fruhling, Riber

Supporting

Yoshio

Supporting

Pocky

Supporting

Merin, Jamis

Supporting

Mayor

Supporting

May

Supporting

Matsuki, Hiroaki

Supporting

Mariko

Supporting

Maistrov

Supporting

Machizaki, Kenichi

Supporting

Lynn, Shigeyo

Supporting

Zeril

Supporting
Because we are making use of some free resources to reduce the main server load, the player can be opened on another domain or showed as a new tab (you have to allow pop-up if you're not using Chrome).