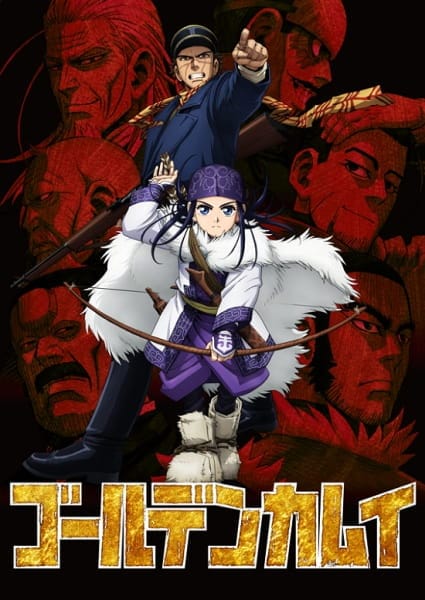 Aired: Apr 9, 2018 to Jun 25, 2018
Duration: 23 min. per ep.
Viewed: 5
Synonyms: Golden Kamuy
In Hokkaido, the far northern lands of Japan, Sugimoto survived the Russo-Japanese war of the Meiji era. Nicknamed "Sugimoto the Immortal" during the war, he now seeks the riches promised by the gold rush in hopes of saving the widowed wife of his now deceased comrade from the war. During his hunt of gold, he finds hints of a hidden stash of gold by corrupt criminals. Partnering with an Ainu girl that saves his life from the harsh climates of the north, they venture into a survival adventure to race against the criminals that seek the hidden stash. (Source: MangaUpdates)
Shiraishi, Yoshitake

Main

Sugimoto, Saichi

Main

Asirpa

Main

Noppera-bou

Supporting

Yamamoto

Supporting

Ogata, Hyakunosuke

Supporting

Okada

Supporting

Osoma

Supporting

Prisoner

Supporting

Shibukawa, Zenjirou

Supporting

Tamai

Supporting

Tanigaki, Genjirou

Supporting

Thomas

Supporting

Toraji

Supporting

Tsukishima, Hajime

Supporting

Tsurumi, Tokushirou

Supporting

Ushiyama, Tatsuma

Supporting

Wada

Supporting

Nikaidou, Youhei

Supporting

Nikaidou, Kouhei

Supporting
Because we are making use of some free resources to reduce the main server load, the player can be opened on another domain or showed as a new tab (you have to allow pop-up if you're not using Chrome).