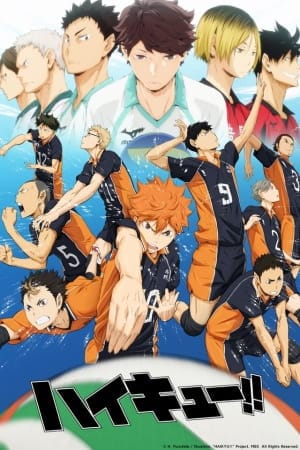 Aired: Apr 6, 2014 to Sep 21, 2014
Duration: 24 min. per ep.
Viewed: 207
Synonyms: Haikyu!!, High Kyuu!!, HQ!!, ハイキュー!!
Inspired after watching a volleyball ace nicknamed "Little Giant" in action, small-statured Shouyou Hinata revives the volleyball club at his middle school. The newly-formed team even makes it to a tournament; however, their first match turns out to be their last when they are brutally squashed by the "King of the Court," Tobio Kageyama. Hinata vows to surpass Kageyama, and so after graduating from middle school, he joins Karasuno High School's volleyball team—only to find that his sworn rival, Kageyama, is now his teammate. Thanks to his short height, Hinata struggles to find his role on the team, even with his superior jumping power. Surprisingly, Kageyama has his own problems that only Hinata can help with, and learning to work together appears to be the only way for the team to be successful. Based on Haruichi Furudate's popular shounen manga of the same name, Haikyuu!! is an exhilarating and emotional sports comedy following two determined athletes as they attempt to patch a heated rivalry in order to make their high school volleyball team the best in Japan. [Written by MAL Rewrite]
Hinata, Shouyou

Main

Kageyama, Tobio

Main

Akane

Supporting

Aone, Takanobu

Supporting

Azumane, Asahi

Supporting

Chaya

Supporting

Ennoshita, Chikara

Supporting

Fukunaga, Shouhei

Supporting

Futakuchi, Kenji

Supporting

Haga

Supporting

Hanamaki, Takahiro

Supporting

Haruka

Supporting

Hinata, Natsu

Supporting

Ikejiri, Hayato

Supporting

Inuoka, Sou

Supporting

Irihata, Nobuteru

Supporting

Iwaizumi, Hajime

Supporting

Izumi, Yukitaka

Supporting

Kai, Nobuyuki

Supporting

Kamasaki, Yasushi

Supporting
Comming soon!!! But still, you're very handsome.
Please comment for requesting this anime.